Dreamscape is both!
How is Dreamscape a reading resource?
By leveraging the habit formation of video games and the available adaptive technologies, Dreamscape is able to deliver a better way to learn. Students become engaged with the program by reading passages and answering questions in order to progress. Passages include various types of fiction and nonfiction titles including; folklore, science and historical fiction, mystery, biography, poetry, and coming soon; charts & graphs, and classic literature.
Teachers are able to create assignments and test prep packages that are then delivered to students during regular gameplay. Assignments override the normal play algorithm by providing the assigned material as opposed to the "just right" reading level passages students normally receive. Once the assignment is complete, students will return to the play environment where they receive a variety of passages and questions based on their adaptive reading performance. This is all performed in a stealth environment and students have no idea they are completing an assignment or test prep! This stealth environment takes the pressure off of students, especially students that might stress over assignment completion or completing an assessment.
The Dreamscape learning engine adapts to each learner and provides material that is appropriate for their level of understanding. Questions are written and reviewed by a team of current and retired teachers thus allowing teachers to be a guiding force in content development. Surveys are frequently sent out to teacher users asking for feedback to make content, dashboard accessibility, and gameplay the best for teachers and learners.
We recommend a minimum of two 30-minute play sessions per week for continual learning. For accelerated mastery, aim for 50 questions per month (grades 2-4) or 100 questions per month (grades 5-8).
How is Dreamscape a game?
Dreamscape combines the strategy and engagement of popular video games with imaginative reading passages to create a ferociously fun literacy game! Players are dropped into the realm of dreams and are tasked with defending their "dwell" from invading dream creatures called "reveries". Students are motivated to read passages and answer comprehension questions to collect resources and build structures to defend their dwell.
In order to progress through Dreamscape, players must answer reading comprehension questions. Whether they want to battle other players, their friends, classmates, or even upgrade their buildings to grow stronger, they have to answer questions!
For example, when a player is attempting to upgrade their buildings, they will receive a friendly reminder as shown in the screenshot below.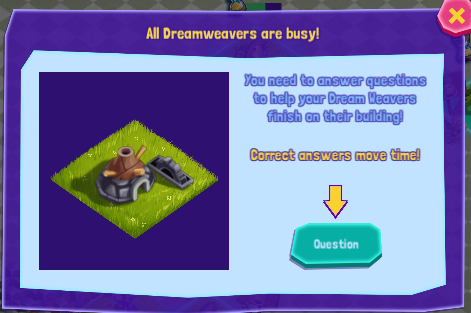 If you have any questions or concerns please see our FAQ or email us at support@eyeread.com